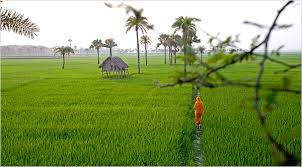 Where Bangladesh is: Bangladesh is a South-Asian country bounded by India from north, east and west and by the Bay of Bengal and Mayanmer from the south and south-east. Bangladesh emerged as a country in 1971 following a 9 months long war of liberation against Pakistani rule. This area was under Muslim rule for five and a half centuries and passed into British rule in 1757. During the British rule it was a part of the British Indian Province of Bengal and Assam. In August 1947 it gained independence from the British rule along with the rest of India and formed a part of Pakistan which was known as East Pakistan.
Why visit Bangladesh: We are in reach culture as Bangladeshi, Land of – Smiling People, Indigenous People -54 different tribal cultures, Reach Archeology, Riverain Beauty, unstopped hospitality, natural green and riverain beauty, reach culture – place – temple of Buddhist, where have hair of Gautama Buddha, reach culture – place – temple of Hindu, World largest longest unbroken Sea Beach – Cox's Bazar, Coral Island – St. Martin, World largest Mangrove forest & home of Royal Bengal Tiger Sundarban (Under of World Heritage), Mohasthan ruins & Paharpur Buddhist Monastery (Under of World Heritage), 60-domed Mosque (Under of World Heritage) and many more Hills, Lakes, River, tea garden etc.
Why with A ONE TURISM: We are the leading one stop logistic supporting companies in Bangladesh Tourism industries. We are working in Bangladesh tourism sector since 2001 but A-One Tourism starts to run from February, 2003 with larger collaboration. Our every team member is trained & Certified by BCP (Bangladesh Parjatan Corporation) Government Tourism Organization.
We are very much specialized in group tour with our experienced, skillful and professional manpower. We can take your full tension for your any kind of tour's to make it memorable, enjoyable and unforgettable with real hospitality.

We are the member of TOAB (Tour operator Association of Bangladesh), BD Inbound, Our Hospitality Service:
Dhaka City Tours & River Cruise
Beach & Island Tours
Forest tours & Adventure tours
customized Package Tours
Hotel Reservation etc.