The Statue of Liberty, known officially as "Liberty Enlightening the World," was a gift to the United States from France in appreciation of the friendship established during the American Revolution and has stood proudly in New York Harbor for over 120 years, becoming an internationally recognized symbol of freedom and democracy. Designed by French sculptor Frederic Auguste Bartholdi and funded through donations from the French people, the statue was created using an iron structure designed by Gustave Eiffel, who later built the Eiffel Tower.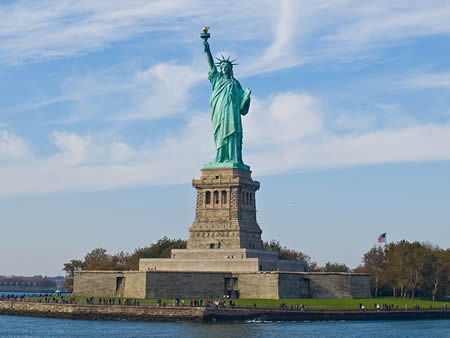 A Liberty figure already adorned most American coins of the time and she appeared in popular civic art, too. Libertas was the goddess of freedom and was widely worshipped in ancient Rome.
Bartholdi wanted Lady Liberty to have a peaceful appearance and it is said that she is modeled after his mother. The torch she holds represents progress and she wears a crown whose seven rays symbolize the seven seas and seven continents. She holds a tablet in her left hand that reads (in Roman numerals): July 4, 1776.
The statue was given to the American Ambassador in Paris on July 4, 1884. Transporting the 151ft (46 m), 225 t (204,100 kg) statue meant it had to be dismantled into over 300 pieces and packed into 214 wooden crates.
The pedestal was built by the United States, but this was delayed due to lack of funds. However, a revived effort to raise funds, led by Joseph Pulitzer through his newspaper "The World", saw the pedestal built and the statue's re-assembly. She was finally dedicated on October 28, 1886 in front of thousands of spectators.
The Statue of Liberty was named a UNESCO World Heritage Site in 1984, and large-scale restoration began. Re-opening to the public in 1986, she stayed open until September 11, 2001, after which she remained closed to the public until August 2004.
Standing over 305 feet, the statue has 354 steps inside and 25 viewing windows in its crown. A visit to Lady Liberty is a must and will be the highlight of your trip! The monument complex now also includes the nearby Ellis Island and its long immigrant history.
Today, the Statue of Liberty is still a symbol of freedom and democracy, not to mention one of the world's most recognizable landmarks.
You can only get to the Statue of Liberty by ferry for which you have to pay, but entrance is then free. Ferries leave from Liberty State Park in Jersey City and Battery Park in Lower Manhattan. It is recommend you purchase tickets in advance; see the website for available options. Be prepared for a thorough security check including security screening (like in airports) when you get on the ferry; you may be asked to surrender suspicious objects (no sharp items like scissors or tools are allowed). Wait times can be several hours, particularly during peak seasons and on weekends. No food or drinks can be taken in. Large packages and suitcases will not be permitted on the ferries and there are no lockers. All visitors must keep items (including strollers) with them at all times. The sight is well-prepared for wheelchair users and even offers some American Sign Language tours. Extra security measures are in place for the trip to the crown, only cameras and medication are allowed.
In October 2012, Liberty Island was hit by Hurricane Sandy. It is set to reopen on July 4, 2013.
Opening Hours
Until Dec 19, 2014:
First ferry from mainland: 9:30 a.m.
Last ferry from mainland: 3:30 p.m.
Closing ferry from Liberty Island: 5 p.m.
Dec 20, 2014 – Jan 4, 2015:
First ferry from mainland: 8:30 a.m.
Last ferry from mainland: 3:30 p.m.
Closing ferry from Liberty Island: 5 p.m.
Please note that the wait times to board any ferry can be over 90 minutes during peak months (Apr – Sep) and holidays.
Admission
Ferry prices:
Adults: $18
Seniors (62+): $14
Children (4-12 years): $9
Children (under 4): free
Pedestal access is included in the ferry ticket price.
To ascend to the crown, you need to purchase a special ticket ($3) together with the ferry ticket.
It is recommended to purchase your tickets in advance – either to book them online or by telephone.
Contact
Phone:+1 212 363 3200